Come join Claudia to learn more about how experiences for teenagers is related to experiences as a toddler and how to meet teenagers and support them in their power.
Ways to Meet Teenagers
in Their Power
Meeting Babies, Toddlers, Teenagers
as Full Beings

~
presented by Claudia Köhler
4 Tuesdays in January 2023
January 10, 17, 24, 31, 2023


10am - 12pm PT
* Recordings of each class will be available for at least a year from the dates of the original class;

**Please note that the recordings will include the lectures and discussions only and will not include confidential client videos shown during the live class.
About this Workshop Series
I will present my experiences during sessions and talks with teenagers.

What is creative opposition and how does it help in relationship to self and others during birth, with two/three years old toddlers and with teenagers?

Ray used to tell me: "If you are really present with your children, when they are two / three years old, and are willing to spend time with them until you reach resolution and come to a point with mutual cooperation in place, puberty will be easy." I find this valuable and true.

Teenagers are special who have parents who were able to take time to work through conflicts until resolution and mutual cooperation were possible in early childhood. I find them inspiring, how they struggle to become independent with strong self- reflection and doubt. I am impressed by teenagers who live in peer groups where respect and non – judgement are high values – a good bases for their young, tender attempts to develop an opinion and their own stands, struggling for a Balance between relating and having a lot of privacy to try out themselves.

In my own teenage years I couldn't speak up for myself, had dark thoughts and it took me until I was 30 years and long trips to the other side of the world to stand on my own two feet. Helpful would have been somebody who had interest and faith in, questions for me and no answers: "What do you think? What do you suggest? What is your interest and intention? Please say 'no', if you feel uneasy. What makes you feel safe with people?"
Basis of the Mini Series is my experience applying pre-and perinatal somatic therapy in womb surround seminars - small groups of adults -, sessions with families with small children and teenies. I intend to address interested lay people, adults and teenagers, and therapists.
Key to the content is: empowerment, individuation, practical exercises.
1. Jan 10th, 2022
Before birth: How can parents make space, witness and support the path, a soul / baby is taking? Some of the subjects to be addressed are: strengthening the adult relationship – eight principals, co-regulation, and harmonic resonance, bringing awareness to the placement of attention. Offering space to a little one including its intention.
2. Jan. 17th, 2022
When the toddler is about two years old: How can parents start into a new phase with their loved one, who sometimes is not so easy to love anymore? Some of the subjects to be addressed are: strengthening the adult relationship during challenging times – daily check-ins, eight principals, and parental listening skills. Introducing healthy shame by saying "No" to the toddler, staying with the child to support her learning about socialization and remembering her intention. That way avoiding shame that makes the toddler collapse. Creative resistance at a young age, resolution and mutual support. Taking time for little children.
3. Jan. 24th, 2023
During puberty: How to stay in contact with a teenager who thrives for independence? Some of the subjects to be addressed are: strengthening the adult relationship – eight principals with the parents of teenagers, how to apply them with a teenager, establishing more safety, creative resistance, looking from the perspective of and remembering the blueprint, supporting the teenager to reconnect to his/her intention.

4. Jan. 31st, 2023
At any age: How to be more connected to self and others? Some of the subjects to be addressed are: the four directions orientation exercise, midspace and blueprint, why is the intention in our work essential? Co-regulation, harmonic resonance.
MEET THE FACILITATOR
Claudia Köhler
Claudia Köhler supports people of all ages in finding healing, balance and meaning in life for the past 35+ years. And for the past 25+ years, she has had a her private practice in Dresden, Germany.

Her professional path was influenced by the interest in personal growth. Learning by experiencing was always the focus, becoming aware of personal imprints and using the body as the main tool as a therapist.

Beginning as a Physiotherapist, Craniosacral Therapist, Hakomi Therapist she studied with Ray extensively during her seven years residence in Big Sur and Santa Barbara, California until 1996.

Therapy started to make sense with the approach that all physical wellbeing or illness, mental, emotional or soul joy or suffering have their roots (long) before and in early child development to a very high degree enhanced / inhibited by (the lack of) bonding and attachment with caregivers. Every following experience is perveived with the early experience as a basis.

But the most challenging, fruitful and in-depth teachings came from her 25 years marriage, welcoming and raising two children in Dresden and watching them heal ancestral imprints, interventions during birth and finding their path.

Extensive traveling for teaching courses, giving talks and personal interest slowed down into a two decade earthy, rooted, rhythmic family life. Clients and students travelled to see Claudia.

In her Practice she supports people of all ages to bond better with themselves and others. In the past 38 years she facilitated 137 womb surround workshops, taught two two-year foundation Trainings with Claire Dolby in Germany. Currently, initiated because of corona, she facilitates online supervision groups, which are great to connect over long distance.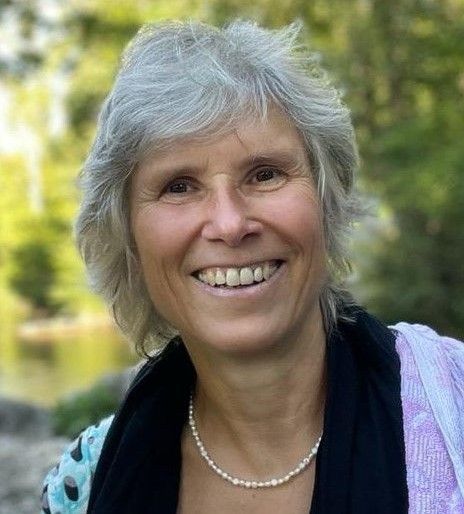 Tara Blasco

Tara has a Ph.D in prenatal and perinatal psychology from the Santa Barbara Graduate Institute, and has worked at the BEBA clinic since 2001. Currently, she is the director of the BEBA clinic and was the co-director with Ray Castellino until he passed in December 2020. She works as the facilitator at the Ojai BEBA clinic and offers online sessions. She is a certified craniosacral therapist. She is a Certified Womb Surround Process Workshop facilitator through Castellino training. She co-teaches Dr. Castellino's Foundation Training in Spain and in the US together with Ray Castellino (until he passed) and Mary Jackson. She is the co-director of the non profit organization Global Resource Alliance dedicated to the alleviation of poverty and disease, and supporting communities in the Mara region of Tanzania.
Mary Jackson

Mary Jackson has been married since 1987, is the mother of 2 children who were born at home, and has been featured in 11 books and 5 movies. Mary has been a home birth Midwife since 1975. She has attended over 2,500 births in the Santa Barbara, Ventura, and Ojai, California areas and is now attending the home births of her second generation of babies. She is a certified Castellino Process Workshop Leader and co-teaches the Castellino Pre and Perinatal Training. In the first year after incorporating these pre and perinatal approaches in her midwifery practice her home to hospital transfer rate went from 20% to 6%. Mary is participating in cutting edge research about imprints that occur around the time of conception, pregnancy and birth and how they affect us throughout the rest of our lives and what it takes to heal from challenges in these experiences. She is a frequent speaker at national and international conferences and leads trainings throughout the world.