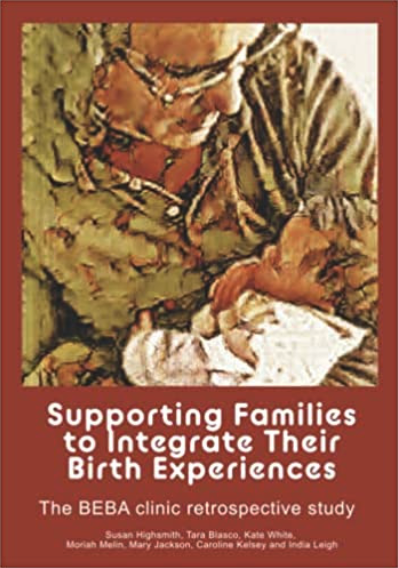 Supporting Families to Integrate Their Birth Experiences
The BEBA clinic retrospective study
ASIN ‏ : ‎ B09WM1DNSM
Publisher ‏ : ‎ Independently published (March 27, 2022)
Language ‏ : ‎ English
Paperback ‏ : ‎ 246 pages
ISBN-13 ‏ : ‎ 979-8430390785
Item Weight ‏ : ‎ 1.21 pounds
Dimensions ‏ : ‎ 7 x 0.56 x 10 inches
About the Book
In 2020 a retrospective study was undertaken examining 27 years of family sessions conducted at the BEBA Family Clinic in California. Co-directors Ray Castellino, DC and Tara Blasco, PhD assembled a team of researchers who designed an online quantitative survey that could be followed by a qualitative interview. This book describes the study, introduces both principles and practices utilized at the Clinic, and presents decades of research supporting the concepts underlying the organization's philosophy. This information is intended to inform both the public and family care professionals who would like to incorporate child-centered care into their families and/or programs. The results of the study are evidence of the profound healing effects that can benefit families in tangible, long lasting and at times astonishing ways. Parents can learn to slow down, listen and be present to the natural healing that is waiting to take place when children are acknowledged for their inherent wisdom.

The BEBA clinic, now in its third decade, offers families support in bonding and attachment through its unique approach which includes pre- and perinatal perspectives, family connection, baby and child-oriented sessions and parent's coaching. This quantitative survey and qualitative interviews revealed what clients thought about the support they received. It is our honor to share the BEBA Clinic's success story, outlining its principles and practices and the results of the Study.
Tara Blasco

Tara has a Ph.D in prenatal and perinatal psychology from the Santa Barbara Graduate Institute, and has worked at the BEBA clinic since 2001. Currently, she is the director of the BEBA clinic and was the co-director with Ray Castellino until he passed in December 2020. She works as the facilitator at the Ojai BEBA clinic and offers online sessions. She is a certified craniosacral therapist. She is a Certified Womb Surround Process Workshop facilitator through Castellino training. She co-teaches Dr. Castellino's Foundation Training in Spain and in the US together with Ray Castellino (until he passed) and Mary Jackson. She is the co-director of the non profit organization Global Resource Alliance dedicated to the alleviation of poverty and disease, and supporting communities in the Mara region of Tanzania.
Mary Jackson

Mary Jackson has been married since 1987, is the mother of 2 children who were born at home, and has been featured in 11 books and 5 movies. Mary has been a home birth Midwife since 1975. She has attended over 2,500 births in the Santa Barbara, Ventura, and Ojai, California areas and is now attending the home births of her second generation of babies. She is a certified Castellino Process Workshop Leader and co-teaches the Castellino Pre and Perinatal Training. In the first year after incorporating these pre and perinatal approaches in her midwifery practice her home to hospital transfer rate went from 20% to 6%. Mary is participating in cutting edge research about imprints that occur around the time of conception, pregnancy and birth and how they affect us throughout the rest of our lives and what it takes to heal from challenges in these experiences. She is a frequent speaker at national and international conferences and leads trainings throughout the world.